Twisted Sister has hired drummer Mike Portnoy to replace A.J. Pero, who died last month, and announced the heavy metal group will disband next year.
The band said Wednesday it chose Portnoy, who played with Dream Theater, Adrenaline Mob and the Winery Dogs, to perform at its remaining seven shows this year.
Two of them will be tribute concerts to Pero, on May 30 at the Hard Rock Hotel and Casino in Las Vegas, which will be recorded for a CD and DVD, and June 13 at the Starland Ballroom in Sayreville, New Jersey, which will raise money for Pero's family.
Anthony Jude Pero died of an apparent heart attack while on a tour bus with Adrenaline Mob, a band with whom he performed between engagements with Twisted Sister. Pero joined Twisted Sister in 1982.
The band also plans an undetermined number of concerts in 2016 to mark the end of its performing career on the 40th anniversary of its core lineup of singer Dee Snider, guitarists Jay Jay French and Eddie Ojeda, and bassist Mark "The Animal" Mendoza. Earlier incarnations of the band date to 1973.
Twisted Sister is best known for the 1984 hit singles "We're Not Gonna Take It" and "I Wanna Rock," and the MTV videos accompanying each that were heavily played.
Nikki Sixx: '$100 Million for Five Shows' Would Not Get Motley Crue to Perform After Final Tour
Motley Crue's Nikki Sixx sat down for a new interview with the website For Bass Players Only, and during the conversation, the bassist spoke about Crue's final tour, his plans for the future and if the band would ever consider touring again.
Sixx talked about the reasoning behind Motley deciding this would be their farewell trek, "Well, you know it started with the idea of pride and it started with the idea of us not wanting to be what we've seen before us, which is people kinda hobbling off into the sunset…. It's human nature to want to keep going, but you have to fight against the 'I'm just gonna keep doing it' when you know the possibility of not looking great on the way out. It's better to pull it in a couple years too early, and that's really what we're doing."
When pressed as to whether they really were absolutely finished touring together after this Final Tour, the bassist had this to say: "Every version of that question has been asked and there's all the trick questions – 'Would you do it for $100 million for five shows in Dubai?' Y'know, let's just get to the core of it: Do you want us to renege on our word? We don't want to. I don't need to name the bands that have. It's obvious. It's okay if they want to do that, and it's okay if their fans accept it."
He went on, "For us, we didn't want to do that…. If it was just about money it would be different. But it's not about money. It's about credibility. And, you know, the next day after we take our final bow, I'm gonna look at my band members and say, 'Wow, dudes, everything we said the first day we got together, the very first band rehearsal, we did it.'"
Sixx did say that while they may not be touring together after the completion of these shows, they are still planning to work together. "We actually have a lot of great things we have in front of us, including our movie," he explains. "And if something comes up and we want to write a song for something, that's an opportunity we can look at. We want to keep extending our brand into different places, into movies and soundtracks and our music will live on through licensing and our brand lives on through merchandise." Check out the full interview here.
In between the final Motley Crue shows, Nikki's other band Sixx: A.M. will tour. They kick things off on April 8 in San Francisco and play throughout the month of April. Meanwhile, the next leg of Crue's Final Tour kicks off May 9 in New Zealand.
Read More: Motley Crue's Nikki Sixx Stands Firm on Final Tour Promise | http://loudwire.com/nikki-sixx-motley-crue-not-perfor-100-million-five-shows/?trackback=tsmclip
 __________________________________________________________________________
****LET'S ROCK AGAINST CANCER**** WELCOMES BASS PLAYER EXTRAORDINAIRE!!..RUDY SARZO
(of Ozzy Osbourne, Quiet Riot, and Whitesnake) TO OUR LIST OF DISTINGUISHED STAR PLAYERS ON APRIL 26th!! COME SUPPORT WITH US AND HELP RUDY & LET'S ROCK AGAINST CANCER MAKE PROGRESS AGAINST CLEAR CELL CANCER! THANKS ALL!!..AND SEE YOUR THERE!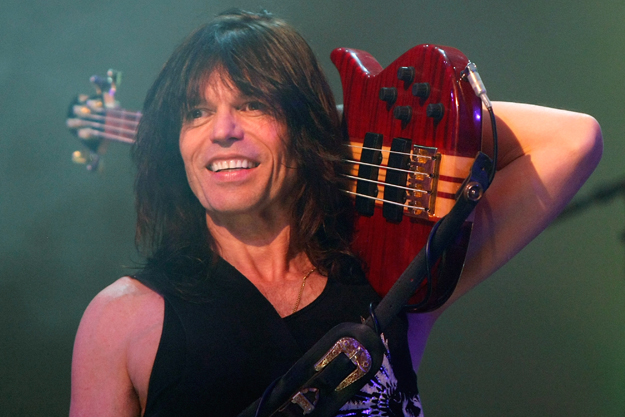 Members of many well known Rock n Roll bands including Tesla, Boston, Whitesnake, Montrose, Ozzy Osbourne, Racer X, Ronnie James Dio Band, L.A. Guns, The Chicago Transit Authority and many others have organized a major charity event to raise money against cancer with proceeds to go to a fund for one of the Bay Area's favorite son's, MIKE BRUNZ ! Additional proceeds going to "Relay for Life," an affiliate of the American Cancer Society that sponsors many charity events like this one to raise money in fighting our ongoing battle with this disease each year. The  Event will be held at The Saddle Rackat 42011 Boscell Rd, Fremont, CA 94538 on April 26th, 2015. Doors open at 5:30.  Go to Facebook: "Let's Rock Against Cancer" for more info or for directions go to www.TheSaddleRack.com .   If you are unable to attend this momentus event, your generous donations are still most greatly appreciated!Help us make MIKE better!!!
$20 DONATION ………ENTRANCE TO THE EVENT (Your name and email at will call)
$100 DONATION……..V.I.P. BACKSTAGE MEET AND GREET PACKAGE (Includes Reserved Seating, Photos with the Artists, Signed Posters, and other signed items of yours)
MAKE YOUR DONATION HERE BY CLICKING THE "DONATE NOW" BUTTON ABOVE
YOU WILL RECEIVE AN EMAIL CONFIRMATION OF YOUR DONATION WITHIN 2-3 BUSINESS DAYS!
MIKE BRUNZ is not only the sweetest guy one could ever meet (As ANYONE who has met him will tell you)…but an amazingly talented Live Sound Engineer! Mike has been a "First Call" for mixing Front-of-House Sound and Monitors for successful touring A-list rock bands in the Bay area for the last 35 years and he is now BATTLING CLEAR CELL CANCER! While on the job, Mike's subtle and consistent gentle approach to technical conversation with his clients exudes his uniquely rare generosity of spirit towards every other human being he encounters. Devoted not only to his work, his wife, and his friends, MIKE BRUNZ is a steadfast and shining example of what we could all possibly learn more about as far as how to "treat" each other while on this planet! Now it's OUR TURN to give back!! Mike wears his deep expert level knowledge of the art of mixing sound far behind a most friendly, humble, and reverent personality. Many great musicians, local radio personalities, and music industry folks want to reach out together to the local community and create a very affordable, fun, memorable night of music that will be remembered fondly for years to come as a major help towards Mike's recovery. The event will include performances by major stars as well as very affordable RAFFLES and AUCTION for extra special signed guitars, cds, photos, shirts, and other memorabilia from many National Artists that will never be available anywhere else but at this event!!! The "Let's Rock Against Cancer" event will be held at The Saddle Rack in Freemont CA on April 26th, 2015. Doors open at 5:30. Go to Facebook: "Let's Rock Against Cancer" for more info or www.TheSaddleRack.com
Some of the Bands that MIKE has MIXED SOUND for (in no particular order) include:
Elvin Bishop, Montrose, Nightranger, Tower of Power, Kansas, Pat Benatar, Dwight Yoakam, Trace Adkins, The Lovin Spoonful, The Temptations, Paul Rodgers Band, Survivor, Huey Lewis and the News, The Doobie Brothers, Gary Hoey, Three Dog Night, Chicago, Blood Sweat and Tears, War, Dokken, Yngwie Malmsteen, Quiet Riot, Molly Hatchet, John Mayall, Joe Bonamassa, Joan Jett, Pat Travers, Vince Neil, Blue Oyster Cult, The Tubes, 38 Special, La Guns, Dreamtheater, Robin Trower, Joe Cocker, Tim McGraw, Blake Shelton, Chris Ledeux, Miranda Lambert, Bret Michaels, Little Big Town, Tyler Farr, Little Texas, The Fabulous Thunderbirds, Los Lobos, The Surfaris, The Coasters, The Drifters, Shelly Wright, Eddie Money, Spyro Gyra, Gamma, Edger Winter, Billy Idol, Pam Tillis, George Thorogood and the Destroyers, Zuccherro, Western Underground, Arlo Guthrie, Bad Company, Tony Bennett, Bill Cosby, Jay Leno, Howie Mandell, Dana Carvey, Bill Maher, Foreigner, Blackhawk, Cry of Love, Reo Speedwagon, Larry Bubbles Brown, 30 Seconds to Mars, Evanesance Maroon 5, Bruce Hornsby, Papa Roach, Smashmouth, Governor Grey Davis, Vice President Al Gore, President Bill Clinton, The Motels, The Fixx, Men At Work, Greg Kihn, Neil Geraldo, Pat Benatar, Zach Wilde, Trick Pony, Greg Allman, Marshall Tucker, Credence Clearwater Revisited, Mickey Thomas's Starship, Mick Fleetwood, Sheila E, Lydia Pense and Cold Blood ,Bruce Hornsby , Y&T, Willie Nelson ,The Donnas, The Smothers Brothers, The Outlaws, Freddy Fender, Norton Buffalo , Robert Redford, Chris Young, Ted Danson, Lauren Hutton , Great White , Phil Vassar , David Carradine, Maria Muldaur, Dixie Dregs, Steve Morse , Dave larue, Rod Morgenstein. Vital Information with Steve Smith, Jason Bonham, Joey Belladonna of Anthrax, Paisley, James Otto, Robben Ford, Village People, Dierks Bentley, Leslie West and Mountain, Tammy Wynette, George Jones, Lee Greenwood, Bobby Black, Bobby Bice, Big Brother and the Holding Company
THANK YOU TO ALL!!
PEACE BE WITH YOU & GOD BLESS US ALL!!
SINCERELY.
…………………………………KEITH ST JOHN
 _______________________________________________________________________
RATT drummer Bobby Blotzer has released a statement explaining his reasons for assembling the RATT EXPERIENCE band which will perform not only the RATT hits, but also several deep album cuts, including many songs that have never been played live.
Said Bobby: "While I had the right to go out and tour as RATT, I would not consider that.
"This is not RATT, but a chance to go out a tour with complete familiarity in our music for you, the fans of RATT and myself humbly.
"I've put heart, soul, blood and my life into being a lifer in RATT.
"I want to play all kinds of tunes that never were even considered by us; well, a majority.
"A lot of 'radio/video hits' always took the front seat, but I felt that we stifled ourselves with a lot of closed-mindedness for so many kick-balls tunes.
"My other 'Rattners' in crime have chose another path. But after five years of us not touring, I'm bored and I want to play our songs that we all wrote and created.
"It ain't RATT, okay, but I'm confident after you see my band playing Ratt 'N' Roll music, you'll agree that it kicked your asses, and you walk out with a good buzz on and in your ears when we start rollin' up on your town. Hopefully a lot of shows as soon as possible.
"It's going to take time and a lot of work and open minds. But these guys are great players and super-good people.
"We just got the pics together along with the needed materials to launch. Now it's in the booking agency's and promoters' hands.
"Thanks for being there for me after 33 years as the bus driver of RATT. You can call me 'The Blotz.'"
Blotzer's RATT EXPERIENCE is rounded out by Josh Alan (SIN CITY SINNERS), Scotty Griffin (ex-L.A. GUNS), Doc Ellis (Jizzy Pearl's LOVE/HATE) and 21-year-old guitar hero Blaze.
Each RATT EXPERIENCE show will include (depending on venue and time slot)
* A performance of RATT's "Invasion Of Your Privacy" album in its entirety to commemorate the record's 30th anniversary
* A never-before-seen video history introduction
* A tribute to late RATT guitarist Robbin "King" Crosby
* Over 20 songs, including some that have never been played live before
* Exclusive VIP meet-and-greet packages and opportunities to hang out with The Blotz!
For more information, visit Facebook.com/TheRattExperience.
Wrote Griffin in a post on his Facebook page: "The RATT EXPERIENCE featuring Bobby Blotzer will be exactly what it sounds like. A night of all RATT songs, featuring rare songs never performed live by RATT as well as the hits everybody knows and loves. Focusing mainly on their first five consecutive platinum and multi-platinum albums, this will be a summer tour you don't want to miss. We are even thinking about possibly celebrating the 30th anniversary of the double-platinum album 'Invasion Of Your Privacy' by playing it in its entirety. Whatever we decide to do, we promise it to be more than just an ordinary show of playing the same old songs. Bobby wants this to be an extra-special RATT EXPERIENCE that will take you through the illustrious career of this great band that he has been 100% a part of since its very inception."
He continued: "Along with myself, the band features my fellow SIN CITY SINNERS: Doc Ellis on guitar and Joshua Alan on vocals. Also joining us will be 21-year-old guitar sensation and local Las Vegan Blaze (recently with Brad Paisley) who joined us onstage when Blotzer was our special guest a few weeks ago at Vamp'd. That was the night where this whole idea sprang from. Bobby had been looking for a band to put together while RATT are on indefinite hold, and it was obvious the SINNERS were that band!"
Former RATT singer Stephen Pearcy recently shut down the possibility of working with his former bandmates ever again. He said: "I think it's a permanent vacation. I'm just doing what I'm gonna do, and I still have other interests and enjoying some time. I'm not going out and playing a lot, just playing just to play. And [I'm] working on other things. But it's a permanent vacation, and as far as I'm concerned; the door's shut. The time has passed for a record. But I don't know… It took ten years for the last record, so I can't say. But as far as playing [together again], no. [There is] nothing else [planned], as far as I'm concerned, right now."
During an April 2014 interview with the "Trunk Nation" show, Blotzer slammed Pearcy over the singer's latest exit from the group, saying: "Everything [Stephen] says is delusional and complete lies. He's so destructive… Stephen doesn't know how to play ball, he's not a team player. It's Stephen's way or there's no way at all… He walks on everything. He's walked four times. Again, this year, he's walked… He's tortured us. I mean, he's kept us hostage for years. 'I'm quitting. I'm not going.' He's canceled shows, he's canceled tours."
He continued: "I think the rest of the band has proven — and you can go to YouTube, that we do — we go out there and we kick ass, and we're concise and we fucking play really good."
Blotzer added: "But do I want him in the band? Yes, I do. I want the nice Stephen in the band."
Read more at http://www.blabbermouth.net/…/ratt-drummer-bobby-blotzer-…/…
http://www.blabbermouth.net/…/ratt-drummer-bobby-blotzer-e…/
RATT drummer Bobby Blotzer has released a statement explaining his reasons for assembling the RATT EXPERIENCE band which will perform not only the RATT…
 ____________________________________________
Billboard Interview w/Nikki Sixx from October 2014:
After more than 30 years in the music business, Nikki Sixx still gets a kick out of shocking people.
He isn't resorting to the extremes that horrified parents and defined his band Motley Crue in the '80s and '90s, but his methods are still effective. Just look at how Motley Crue signing a cessation of touring agreement in January got people talking about its farewell tour. So Sixx was upholding tradition when he decided to pull a good-natured stunt at Vintage Vinyl in Fords, N.J., on Aug. 30.
Since Motley Crue was playing Holmdel, NJ, that evening, the bassist passed the morning by posing as a first-day employee at a local record store. For several hours, Sixx talked music with people and casually played it off when suspecting customers inquired about his identity, giving his name as "Larry." Although he had worked in a record store in his youth, he wasn't test-driving the gig as a possible career option once Motley leaves the road. No, Sixx playfully stepped behind the counter promote Modern Vintage, the new Sixx:A.M. album that arrived Oct. 7 — not surprisingly, he steered people toward the band's catalog. (Watch video of Nikki Sixx working undercover as a record-store employee at Vintage Vinyl in Fords, NJ, here.)
Modern Vintage is yet another surprise up Sixx's tattooed sleeve. The last two Sixx:A.M. sets doubled as soundtracks to two books Sixx wrote about his addiction and recovery, The Heroin Diaries: A Year in the Life of a Shattered Rock Star and This Is Gonna Hurt: Photography and Life Through the Distorted Lens of Nikki Sixx.
This time around, in terms of lyrical content, Modern Vintage is a freestanding entity. And today, Billboard is proud to exclusively premiere the lyric video to "Give Me a Love." Watch it below.
https://www.youtube.com/watch?v=rdgCqIelfPo
Modern Vintage celebrates bands like Queen, Sweet and T. Rex that made Sixx, James Michael and DJ Ashba fall in love with music. The sound is still distinctly Sixx:A.M. — songs like "Give Me a Love" and the pick-yourself-back-up rocker "Let's Go" are prime examples of that — but the joyful grandiose quality of Queen is apparent on "Gotta Get It Right," and "Miracle" is a somewhat funky trip that doesn't quite go all the way back to the '70s. An even bigger curveball is the band's cover of The Cars' 1984 melancholy ballad "Drive," which Sixx:A.M. recast with a faster-paced tempo and softly gurgling keyboards. Fans will be able to hear the songs live when Sixx:A.M. tours theater-size venues in April, bringing along Finnish group Apocalyptica as support.
Sixx chatted with Billboard about the thought process behind Modern Vintage and some of the surprising influences that shaped it. He also explained why, when it comes to music, Sixx:A.M. didn't want to serve up the same old thing to its fans.
What did it feel like to be a record store employee again?
When I first walked in, I had this huge buzz, like the smell of the store. It took me back to when I used to work in record stores and spent all my time in record stores looking for bootlegs. There was a great store in Seattle called Cellophane Records. It had really cool bootlegs of bands, like live concerts, [David] Bowie and Elton John, Slade, all this stuff live, and we were just like, "Wow, so that's what it sounds like live." We were so inquisitive about music. Something about the whole experience of being in a store and just looking for music, looking at the album covers and just taking the whole experience in, hearing something new over the PA system. [It] kind of felt that when I walked back in.
It was cute how you were directing everyone to buy a Sixx:A.M. record. Watching their expressions when they realized who you were was funny.
(Laughs.) There were some moments where some people actually did not know who I was, which was perfect, and me talking about music and then them going, "Well no, I don't really want to buy this, I don't know if I like it," and me being like, "Take it back, how can you not like this? It's Sixx:A.M."
One woman said she didn't think she had counted her change after she gave you a $100 bill because she didn't believe it was you. She told me she had read The Heroin Diaries. She said, "I'm in recovery, and I've dealt with depression. Whenever I have a bad day, I think, 'If Nikki Sixx can get through 1987, I can get through this day." It was interesting hearing right from a fan the impact the book had has on them.
That was the whole reason behind the book, the whole reason for sharing the story. Today's society everybody always shares the glamour, how much we have, how great we're doing, how big our band is. And that's great. I think that we should celebrate life in all ways. But also you have to show the warts and all, because 100 percent of us all go through stuff and it's that that makes the other stuff worthwhile. So I felt like sharing that in the books, parts of my story and my lyrics over the years.
It makes me feel good when I hear that story. It's like, "Oh, that's awesome. It gave one person a reason to step one more time," because I've got those same inspirational moments from other people throughout the years, whether it's writers or musicians or friends or just people I look up to.
While Modern Vintage is a different type of project from the first two Sixx:A.M. records, do any of its songs relate to what you've experienced as you've continued in your recovery?
There's definitely some battle-cry moments, and the lyrics are really deep on the record. A song like "Let's Go" … lyrically it really ties back to the first two records. It's a song that kind of says, "Hey, let's get up and get out of our own way. Let's go. Let's go through the darkness. We can make this. We can do this." So in that sense, that one definitely does.
A lot of the songs we stripped them down musically. We'd be sitting there with just acoustic guitars or a piano, and some of the subject matter we took it all the way back to its simplest form. On a song like "Hyperventilate," we talk about that moment when you first fall in love with somebody or something and you feel like you can't breathe. You're hyperventilating, and you love that feeling. It is like a drug, it's like, "Wow, that's what drives us." We're looking for that thing that takes our breath away. In a sense it's new territory for us, but at the same time it's kind of cultivating everything we've been through.
James said Sixx:A.M. had "to dare to make something that could leave us looking silly" on this album. What do you think people might perceive about this album that would have them look at you cock-eyed?
It started with our early conversations. So much stuff with Sixx:A.M. starts with conversations, sitting around with a guitar, noodling around, playing some chords, talking about something, feelings, thoughts, things that you're observing. Then the song starts coming and then usually that part of the conversation somehow gets plugged into the song.
I remember we were outside at my house, sitting in a circle on this patio with guitars. Conversation came up like, "Let's make a record that everybody might laugh at. Let's talk about that." And we all started talking about pulling from all this music that people wouldn't expect. Nobody wants to say they listen to the Bee Gees or ABBA. Nobody wants to say that in a rock band, but let's face it: That is stellar songwriting. That is so defined, and we like so much music, but we were talking about the '70s in that conversation and I had been listening to a lot of the Bee Gees, and the guys started talking about stuff they liked about that genre, which was kind of a disco genre, and two songs came out. One is a bonus track called "So Beautiful, Let It Haunt You" and one's called "Miracle."
When "Miracle" first started you could listen to the original ideas — just guitar, a little tiny loop, James kind of singing this melody line on the bass. This does not sound like something our fans are going to understand. But we kept pushing on the idea. The core idea was how great those songs were, and we started figuring out why they were great.
I remember a friend of mine came by the house. I put on "Miracle" and he goes, "Wow, that's like amazing. Sounds like Lenny Kravitz meets you guys meets Jack White. I don't know, what the hell? It's amazing. It sounds old, but it's new." And I said "Thanks." So he left and I called the guys. I told them what he said and they said, "That's what this album's about. It's modern vintage." So we had to extend ourselves in faith that we were going to land on our feet, but we definitely had to pull the rug out from underneath ourselves to take a chance.
So for the record, what are your favorite Bee Gees and ABBA songs?
(Laughs.) This is the interesting part of the conversation. Earlier in interviews when I mentioned what we just talked about it would have thrown people. They would kind of go, "Whoa, whoa, whoa, disco? Wait, wait, wait, ragtime? Who, what are you talking about?" We [said], "You know, it's like what Queen did. They just embraced everything," and that's kind of what we're about on this record.
We released "Gotta Get It Right" because it wasn't exactly what people would expect from us. We wanted that moment where people would go, "Oh, whoa, no, no, no, no, no," or "This is amazing." We got both extremes. I didn't get anyone that said, "Yeah, I kinda like the new Sixx:A.M." I have people like, "This is the freshest band I've heard in the last five years because everything is starting to sound the same." Other people just go, "I'm not in. Not heavy enough." I'm like, "OK, what about Queen on 'Killer Queen.' Is that heavy enough for you? What about 'Bohemian Rhapsody'?"
But we're in a very strange time where everything is so formatted. You used to have FM radio, and FM was not so formatted. All genres of music on FM radio, that's what I grew up on. I could go to a vinyl store, I could go through every genre, I could pick stuff. Sometimes I'd buy a Roxy Music album based on one song I heard and these two sexy girls on an album cover. And we knew everything about everything and the artist, and we gave the artists these huge opportunities to grow by supporting them.
What was it about bands like Queen, Bowie and T. Rex that made you love them?
I went to this sushi restaurant last night. Never been to it before. The guy [who waited on me] said, "What do you want?" I said, "Give me anything you want," and he was excited about that … I sat there for an hour. I ate all this stuff I'd never eaten, and it was similar, it was like salmon, but it was like seared with this crazy seaweed and this interesting sauce, so it was sushi. My mouth went, "Wow." That's what Queen, Bowie, Slade and Sweet was for me. [When I was a teenager] I put on Sweet and I'm like, "Whoa, look at those harmonies, look at those guitars. It's so heavy, yet it's pop, and look at those haircuts, and where the hell do these people live?" And it went to Slade, it went to Bowie, it went to Elton John, it went on and on. It went to Aerosmith and back to the Stones. It's all food. But it makes your mouth go, "Holy fuck, what was that?" We didn't want to give you a f—ing California roll with Sixx:A.M.
http://www.billboard.com/…/nikki-sixx-am-give-me-a-love-lyr…
After more than 30 years in the music business, Nikki Sixx still gets a kick out of shocking people.
 _____________________________________________
Atlanta-based Band Kickin Valentina to release new CD, Super Atomic!
METAL NEWS
Kickin Valentina Gearing Up For 'Super Atomic' Release
On April 28th Kickin Valentina will release 'Super Atomic' through Highway 9 Records, along with the first single and video for the song "Wrong Way".
The band is currently running a pre-sale campaign through their website at www.kickinvalentina.com, with the digital pre-sale (throughiTunes, Amazon, etc.) to follow on March 31st.
Kickin Valentina has been busy touring the country and opening for artists as diverse as Buckcherry, Queensryche, Pop Evil, Fozzy,Skid Row, Red Dragon Cartel, Sebastian Bach, Doro, Eve To Adam, Faster Pussycat, Nonpoint, Kix, L.A. Guns, and Cilver to name a few.
In addition to their own headlining shows, they have also performed at a variety of music festivals such as Soundwave, Rock N Skull, Wolf Fest, Skull Fest, Summer Rock Party, and Outskirts 53 Music & Bike Fest.
In June 2014 they were nominated for — and won — the prestigious 2014 GA Music Award for "Rock Band of the Year".
2015 is already kicking off to a great start. Both "Get Ready" and the standout track "Alone" will be featured in the new action horror movie and soundtrack Altered, from award winning film director Kely McClung.
Kickin Valentina will stay busy supporting their brand new album and touring extensively, spreading their unique and unapologetic brand of rock 'n' roll to the people that still believe.
Upcoming Kickin Valentina tour dates:
4/16 Miami, FL – Grand Central (with Red Dragon Cartel)
4/17 Ft. Lauderdale, FL – Kreepy Tiki
4/18 Winter Park, FL – The Haven
4/19 Johns Creek, GA – 37 Main (with Red Dragon Cartel)
 ____________________________________________
Nikki Sixx Writing with Australian Band 5SOS
Mötley Crüe bassist, Nikki Sixx has confirmed via his Twitter account that he is working with the award-winning band, 5 Seconds of Summer. "Congrats @5sos on your award Nice Crüe shirt too. See yah next week for some lyric writing. @iHeartRadio #iHeartAwards," he tweeted after the band's iHeartRadio appearance. 5 Seconds of Summer have been quite busy in the recent months, collaborating with producer John Feldman, Good Charlotte's Benji and Joel Madden, Nickelback's Chad Kroeger, Sum 41's Deryck Whibley, Simple Plan, and more.
The album, which as of yet has no title, is expected to have a 2015 release date and is the follow-up to their self-titled debut album. "We've written most of it, and we're recording it now. We'll release it when it's right, whether it's on the tour or at the end of the tour. New music will definitely be out this year," Michael Clifford said in a recent interview. 5 Seconds of Summer formed in 2011 in Sydney, Australia and rose to international fame after touring with One Direction. Their 2014 self-titled debut album debuted at number one on Billboard 200, achieving the biggest first-week sales for a debut album by a group since Daughtry.
Sixx is currently on tour with Mötley Crüe, as they finish what will be their final tour as a band. In March of 2013, Sixx announced that the band would be retiring for good, with their final show being on December 31, 2015. While there has been speculation that the band's retirement is due to guitarist Mick Mars' health issues due to his ankylosing spondylitis, Mars has denied this. Mötley Crüe has sold over one hundred million albums and have been nominated for three Grammys, four American Music Awards (winning one), a MTV Video Music Award, and have a star on the Hollywood Walk of Fame.
Aside from touring with Mötley Crüe, Sixx is has been working with his other band Sixx A.M., comprising of Sixx, DJ Ashba, James Michael, and drummer Dustin Steinke. Since the band's formation in 2007, they have released six albums, three of them being studio albums; their latest, Modern
Read more: http://fdrmx.com/nikki-sixx-writing-with-australian-band-5sos/#ixzz3WH0k18aM
Follow us: @fdrmx on Twitter
_____________________________________________________________________
GUNZO to sail with the Shredders FAntasy CRuise in February 2016!
News from Tracii Guns:
Me and the GUNZO men are honored to be a part of this shredder cruise with Zakk , Yngwie and Skolnick
Here's the link to the Shredders Fantasy Cruise, which is booking for February break 2016! GUNZO, featuring Tracii Guns, Rudy Sarzo, Keith St. John, and Shane Fitzgibbon, will be performing on the cruise, which tells me these guys may actually be sticking together for awhile, at least as a side project for some of them. Can we say: "National tour, please?" grin emoticonBTW, there will also be a guitar workshop with the one and only Yngwie Malmsteen on the cruise!
Axes & Anchors Rock Music Cruise
February 20 – 24, 2016
Welcome to the maiden voyage of Axes & Anchors festival at sea! Have you ever dreamed of running into your idols at a bar or even in the elevator? Wonder what it's like to learn first-hand how to wield an axe like the masters?
Take this epic adventure and rub elbows with your favorite performers, hone your guitar chops, meet new friends, and build awesome memories. And if that's not enough, soak up some suds and sun on exotic beaches.
Reserve your spot before they're all sold out!
_____________________________________________
Between Mötley Crüe's Final Tour and Sixx:A.M.'s spring headlining dates, Nikki Sixx is working at top speed these days — and it sounds like he intends to maintain that pace after the Crüe play their last gig.
As Sixx put it during a recent interview with For Bass Players Only, he'll wake up the morning after the end of the tour and get right to work. "I'm gonna look at my band members and say, 'Wow, dudes, everything we said the first day we got together, the very first band rehearsal, we did it.' And then I'm right back at it. I've got my fingers in many pies and I'm very excited about creating stuff and watching it blossom and bloom and harvest it and get on with the next thing. I think it's a very exciting thing to look forward to as well."
As for Mötley Crüe, Sixx reminded readers that there are still more projects in the pipeline, starting with a film adapted from the band memoir The Dirt. "We want to keep extending our brand into different places, into movies and soundtracks," he pointed out. "Our music will live on through licensing, and our brand lives on through merchandise, and new generations will get to wear our clothing and our T-shirts and stuff that's associated with us. … That's so cool. And besides, whatever we do as Mötley Crüe, what about what each guy's gonna do, individually? That's really exciting."
Adding that the Final Tour has been "phenomenal" and the crowds have been "amazing," Sixx laughed off yet a question about whether the band would reconsider its decision to retire from the road. "I have less years in front of me than I have behind me, and it's the same for all my band members," he noted. "There's a track record of what we've done together, and I think we each individually want to go out and do some other stuff. If it was just about money it would be different. But it's not about money. It's about credibility."
Read More: Nikki Sixx Talks Life After Motley Crue's Final Tour: 'I've Got My Fingers in Many Pies' | http://ultimateclassicrock.com/nikki-sixx-after-motley-crue/?trackback=tsmclip
 _____________________________________________
Motley Crue's Nikki Sixx to work with boy band 5 Seconds of Summer
The rocker revealed he will be writing lyrics with the Australian punk-pop group
Read more at http://www.nme.com/news/motley-crue/84063#A0YZCuOUu6lEWlgu.99
Motley Crue's Nikki Sixx is set to work with boy band 5 Seconds of Summer.
On Twitter, the bassist of the veteran hard rock band said writing sessions with the group were soon set to take place. "Congrats @5sos on your award Nice Crüe shirt too.See yah next week for some lyric writing.@iHeartRadio #iHeartAwards," he wrote. 5 Seconds of Summer were in attendance at yesterday's (March 29) iHeartRadio Music Awards at the Shrine Auditorium in Los Angeles, where they picked up the award for Best Fan Army.
Meanwhile, Motley Crue are currently in the middle of an 18-month farewell tour that will mark the end of the group after 24 years. The tour will culminate with a New Year's Eve show at The Staples Centre in Los Angeles and, if Alice Cooper has his way, the band's deaths.
During a recent interview with Australian classic rock radio station Triple M, Cooper – who has been serving as an opening act – revealed he has offered to chop off the band's heads as a finale.
"They finish up in the United States on New Year's, and that's their last gig," said the rock frontman, who has been known to include guillotines in his live shows. "I told them, 'Why don't you let me kill you onstage? That finishes everything.' Four guillotines, floomp! Done!"
Read More On This ArtistMötley Crüe's Vince Neil sues social media manager for locking him out of Facebook accountMötley Crüe's Tommy Lee says film adaptation of 'The Dirt' will be 'Triple R' ratedMötley Crüe vow to continue making music despite farewell tour plansVideo: Brett Morgen Interview On Montage Of Heck: 'Audiences Are Going To Meet Kurt Cobain For The First Time'

________________________________________________________________________
Gene Simmons to Appear as Guest Musician at R&R Fantasy Camp in Calgary, Alberta!
http://calgaryherald.com/entertainment/music/gene-simmons-to-appear-at-calgary-rock-n-roll-fantasy-camp
Is Gene Simmons the man of your fantasies?
You're weird. But you're in luck.
The founding member of classic, costumed rockers Kiss will be appearing as part of the inaugural Canadian version of the Rock 'N' Roll Fantasy Camp taking place in Calgary from May 14-17.
The camp, now in its 18th year, allows budding musicians the opportunity to learn from and jam with some of rock music's biggest names.
Simmons will join George Lynch (Dokken, Lynch Mob) as guest rock stars for the event, while the main list of counsellors is a who's who of session musicians and band members, including: Lita Ford (The Runaways), Vinny Appice (Black Sabbath, DIO, Rick Derringer, John Lennon), Rudy Sarzo (Ozzy Osbourne, Quiet Riot, Queensryche), Teddy Andreadis (Carole King, Guns N' Roses, Alice Cooper, BB King, Michael Jackson) and Nick Catanese (Black Label Society).
The main camp will take place at SAIT where counsellors will offer their advice on everything from vocal stylings to songwriting, with an original song to be written, rehearsed and recorded. The final night of the camp will feature a special performance of those songs at Cowboys.
Packages range from the Headliner experience for $7,700, which includes a four-night stay at the Palliser and "your own personalized 'rider' complete with M&Ms" to the Spouse/Groupie experience for $999.00 which provides a "a personal concierge" and discounts and deals on spa treatments or day trips.
For more information or to register go to rockcamp.comor rockandrollcampcanada.com.
___________________________________________________________________________
Jani Lane Tribute Concert!
The great people at the Akron Civic Theatre would like to take as many calls today of fans purchasing tickets to our June 18 show in tribute to <3 Jani Lane<3. The phone number is 330-253-2488 and you can purchase them over the phone. Box office opens at 10 am. This place is just 7 miles from where Jani grew up. Besides former members of Warrant performing, this night is headlined by Cinderella's Tom Keifer.
_______________________________________________________________________
Former Night Ranger Guitarist Jeff Watson Talks New Music + Upcoming 'Randy Rhoads Remembered' Tour
by Matt Wardlaw March 28, 2015 2:14 PM
JeffWatson.com
You can find some crazy things in your glove compartment, as former Night Ranger guitarist Jeff Watson recently learned. While digging around in his wife's car, he found a cassette tape that had five demos for the never-completed fourth album from Mother's Army, the heavy '90s-era supergroup featuring Watson, Ozzy Osbourne bassist Bob Daisley, Rainbow vocalist Joe Lynn Turner and drummer Aynsley Dunbar (who, by this time, had replaced original drummer Carmine Appice).
Watson will release the demos, once thought to be lost, one-by-one in the coming months. He's also been hard at work on new solo music, including "Squirrels & Kerosene," a recently released single that is quite appropriately titled. The fast-paced track quickly demonstrates that Watson hasn't lost an ounce of his skills on the fretboard.
After a few years away from the spotlight, a time in which he continued to stay busy with a variety of projects, Watson is finally putting himself back out there in the public eye. He stepped back onto the stage in early January to trade licks with Joel Hoekstra — his replacement in Night Ranger (now playing guitar for Whitesnake) — on the Randy Rhoads-driven Osbourne classic "Over the Mountain." Watson will be a guest player in an all-star lineup that will hit the road this spring and summer to continue the live exploration of Rhoads' legendary guitar work with the Randy Rhoads Remembered tour.
Breaking the silence for one of his first interviews, Watson sat down with Ultimate Classic Rock to talk about the upcoming trek, which features a band including former Ozzy drummer Brian Tichy and former Osbourne bassist Rudy Sarzo, his new music and the plans to release the Mother's Army material. He also shares some interesting insight regarding how he developed into one of the most unique guitar players of the '80s with his legendary 8-finger tapping technique.
For the past several years, Jeff Watson has been the definition of "off the grid." It's great to see you back with new music. Can you talk a little bit about what it was that brought you back around?
Well, several things. Once I left Ranger, there was a confluence of events going on in my personal life. We have a kid graduating high school this year. So you know, I had to get into home life. But studio stuff, I've been writing a ton of material — and I've never stopped writing, since I was very young. I also did some film work on a couple of films and some TV work, scoring as well as participating in the film Enchanted and the filming in New York for that. I did some of the voiceover stuff here at my studio and you know, I play on other people's albums and things.
I would have to say that it was just time to kind of reevaluate what's going on. I also didn't want to be overexposed — perhaps I'm underexposed….I may have taken it too far! But it feels like the right time for me, for some reason. I'm playing better guitar now than I was back in the day. I've really spent more time becoming a better player and honing my musical skills, as it were. So I think that's the best explanation I can have for the recluse years!
For folks that don't know, what was the story behind your departure from Night Ranger?
It's kind of a sad one and it's not something that I'd like to dwell on, really. It was almost biblical, how it affected me anyway. But it was a drag. It was unexpected and I really don't want to jump into the details. I think everybody just has to live with the outcome and that's all in the rear-view mirror, as it were. I have nothing but the best wishes for everybody in whatever they pursue in their life, I really do.
But that was a great time of my life when things were going well with the band in the '80s. It was really a lot of fun. Even the reunion stuff was a good time for us and we had some great shows together. It was a bit of a shock to have the tables turned, but things happen.
"Squirrels and Kerosene," your new single, certainly shows that your fingers are in good shape. Listening to it, I hear a Chet Atkins kind of vibe and the pacing certainly fits the squirrels part of the title.
Where was your head at working on this tune?
I live up in the forest in Mill Valley in this house I've been in for over 30 years and my studio's here and we're literally in the forest with lots of animals. We have deer at the house every day and raccoons every night, mountain lions, coyotes, foxes, skunks, you name it…and lots of squirrels! We also have a cabin above Lake Tahoe where there's no electricity and there's no roads to get in and no phones. So the only thing to do there is either waterski or canoe or fish or read or play board games or play music.
I chose the latter, so I would teach myself songs up there and we'd go there every summer — it's only open three months a year because it's at such a high altitude — it's at 7,500 feet. It's kerosene lanterns there…it's the real McCoy for certain, for getting off the grid living. So it made sense to me to put those two types of songs together. When I was a small kid, my parents were in the Folk Music Society in Sacramento, so I grew up mostly around folk and bluegrass music. Late in my teens was when I first started playing electric guitar — I started on 12-string guitar and flatpicking was everything when I was a little kid.
Then I saw a guy playing electric guitar in a band that came to my high school for an assembly and I was enamored. I thought, "Wow, that's a good band." From then on, I started digging in and listening to a few people and trying to find my own style and then I stopped listening to people several years later and I hate to say this, but I really don't listen to a lot of music. I mostly listen to what I'm composing and working on and that's how I come up with my unusual style. Like it or not, that's the weirdness of it! [Laughs] That's why some people think it's just off the charts weird, but that's me.
You have to probably realize that starting with a 12-string is a really interesting place to start as a player, when you see years later where other people started.
That's a very good point. I've been alerted to that because I've come into the 21st century and now I have the interwebs and all of that. People send me things or I'll watch something and I'm shocked at just how gifted some of these kids are that are just tackling it. They've been learning from the people that did it in the last 20 years, so I think it's like a snowball effect. They get good so young.
I was talking with Steve Lukather and Steve Morse, a couple of my friends, and we were just laughing about this. They're being born with more chops than any of us have put together these days. [Laughs] So I think that it's exciting. I'm not sure about their compositional skills — I'm not sure what they're deriving from their musical direction. It's coming all from the Yngwie [Malmsteen] stuff or the [Tony] MacAlpine stuff or that sort of thing. I hope they listen to other types of material. I was more interested in the '70s music and then before that, like I said, the folk stuff. But I probably would have liked to have had an electric guitar when I was young.
Did it feel easier once you got your hands on an electric?
Oh yeah. Absolutely. And I taught myself to play, so I had no rules or guidelines to go by. I just had the guitar, guitar picks and myself in a cabin and I would just go, "Hmmmmmm," and things sounded good to me so I would pursue them. I pick oddly — I pick with the front edge of my pick facing up as opposed to the front edge of the pick facing down. I also start most of my flatpicking with an upstroke and I do a lot of string skipping.
That's primarily due to the 12-string when I was a kid. That just carried over onto electric guitar. But to answer your initial question, it felt pretty easygoing to six lighter strings than the 12 heavy strings that were on that guitar — and I'd love to have that guitar back, but I'm sure that's some sort of firewood by now.
It definitely seems like you would have a good amount of added dexterity with an electric, as you kind of spoke about, because you started on the 12-string.
Yeah, I would suggest that's correct. I think that I taught myself to move around a lot and having to get both octave strings held down, I had a pretty strong left hand. It's probably weakened as I've gotten older and don't play as much 12-string, but I think that definitely contributes to my abilities greatly. That's probably why I wrote unusual things, because I wasn't told not to.
Because I wasn't studying in a music school, I've always just tried to make my ears happy and a lot of the solos and songs that I've released over the years actually started out just sitting either here in the forest or up at our cabin with just a practice lick, trying to make my hands do something that they normally wouldn't want to do. There's no sense in practicing something over and over again that you already play well. That's one thing that I've realized in my life.
You're not getting better, you're just pleasing yourself and it's not about showing off to yourself! [Laughs]
So I just sort of pick something that's very difficult and try to develop it and then once I accomplish that, I'll try something that's more difficult. A lot of those pieces that I wrote for myself on the guitar neck have since become either songs or signature types of solos for me. Like "Don't Tell Me You Love Me" or "Goodbye" or "Let Him Run" or "(You Can Still) Rock in America," there's certain specific things [in those songs] that started out as practice licks that I came up with, just sitting and looking at a lake.
As I understand it, you've got some other music in the can, right? Is the style of "Squirrels and Kerosene" indicative of the tone and feel of the rest of the material?
No. I used a lot of that type of approach, but at a much lesser tempo, when I was scoring Vertical Frontier, the film, a lot of acoustic or flatpicking stuff. Maybe I should do one called "Chipmunks on Meth" or something, but "Squirrels and Kerosene" was basically just a test. I'm not sure that I could pick up a guitar right now and play that song from top to bottom. It's right at the top of my ability. If I was to play it live, I would definitely pull it back a few beats per minute. It goes by quickly and it's something that was difficult to play all the way through for me in the studio. [Laughs]
But the other stuff, to answer your question, goes back a little more towards what I was writing before we started Night Ranger. I had a band of my own and I had more of a Deep Purple-ish [thing that was] more towards heavy hard rock than the rest of the guys. So when we put Ranger together, I came from the rock side of things, as did Fitz [Night Ranger keyboardist Alan "Fitz" Fitzgerald], and the other guys came from more of a pop or funk side. It was kind of an interesting combination and that's what made it work with all of the different styles. But I'm pulling out some of the stuff and the styles that I was writing back in those days, because I never really released them. Nobody's ever heard them.
So that's kind of where I'm going. "Squirrels" is new and I've got another one that I want to release soon — I have a guest star coming into play on it. Jeremy Colson has already done the drums for me, who is a great drummer who lives right down the street here in Tiburon and he plays with Steve Vai and [Joe] Satriani and Billy Idol and he's just a monster. So I cut the basics and I've got some of the solo stuff on it and I want to get a guest guitar player in here to play along with me on a couple of things and I think that will be my next release of the new stuff.
Additionally, I'm going to put out five songs slowly, one at a time, over the period of the next few months, of the Mother's Army Four record that we never went in and finished recording. We actually did five demos here. Bob Daisley and I wrote them with Joe Lynn Turner and Aynsley Dunbar played drums and we cut the demos for the songs on my two-inch machine upstairs and we put 16-track heads on the machines, so it sounds beautiful in that regard. The tape is ruined and we thought it was all lost, but in my wife's glove box in her car, there was this cassette.
I didn't know what was on the cassette. Well, on one side of the cassette, were the five songs that I had mixed of the demos of the MA4 album and there's no way to recreate [that] and get the guys back in from all over the world and get that energy back. So we mastered the cassette and I'm going to start releasing the Mother's Army Four songs coming up pretty quickly. They should be starting to come out, I would think, next month sometime. The first one should come out and it will come out on iTunes and Amazon and CDBaby.
Hearing that this was on a cassette that was in your wife's glove compartment, I think that's really incredible. The first question that comes to mind of course is what is this cassette doing in there and how long had it been there?
That's the interesting thing. I just talked to Bob Daisley, who is down in Australia and he's one of my best friends and a great bass player and a great writer. He and I wrote the first three Mother's Army records together and then Joe Lynn Turner came in to do more writing as we got farther into the second and third records. But Bob is a dear friend and he reminded me — I thought it was 1997….I think we actually cut those demos in 1999 and then I'm sure I stuck them on a cassette to play in my wife's old car and I'm sure when I was cleaning it out,
I just pulled the cassette out and I flipped it over and it said "MA4 Demo" and I thought, "What?" I put it in and of course the tape breaks, so I got the tape and taped it back together and I cooked it enough in the oven, I warmed it up enough and I transferred it and I got it down to a friend named Thomas LeBlanc in Los Angeles, who is a mastering engineer. He mastered it and got them sounding as good as they can be sounding from a 15-year old cassette that's been baking in a car. I've got to tell you, they sound really good and all of the guys in the band were quite surprised when I sent them around. I said, "I want to put this out, because there's no way that we can recreate that energy and get everybody to do this again." It is what it is — basically it's the "lost tapes," the "MA4 lost tapes." There's five songs and that is going to be all that comes out of that band, ever.
How many years had it been in there though?
Okay, let's see. What I probably did is I probably recorded something past those songs, because I wanted to demo something like a guitar idea. I'm sure the other side is full of just junky ideas. I must have stuck it in there to listen to something in the car, because it's a great listening environment when you want to check out your tones from the studio. I'm sure she probably pulled it out and put in something she likes to listen to. I mean, this is back when cars had cassette players in them, right? So anyway, it's been sitting in there, I don't know, it was probably in the car for 12 years? That's the only copy that exists and to be honest with you, I'm not even sure where it is right now. You've got me curious!
I have a house full of things, thousands of cassettes and CDs and two-inch tapes and guitars and amplifiers and pianos and keyboards. It's like the Winchester Mystery House out here, so finding that cassette would be definitely difficult to do again. But we have captured it digitally and it is ready to be released. They've mastered it and they're ready to go. We're just waiting — we had to register the songs. They had not been registered and nothing had been done, because we disbanded. Everybody had to go off and do their things. I went back out and did shows with Ranger and Bob had to go out with whomever, Gary Moore or Ozzy or whatever. Everybody had their thing.
I know you've got the Randy Rhoads thing coming up and I want to talk about that, but staying on the solo tip for a moment, what's the thought as far as this new music that you've started to put out. Do you want to put together a solo band and play some live shows?
You know, I'm torn on that. I really like to play and I really enjoyed playing, especially with Brian Tichy, Rudy Sarzo and Joel Hoekstra, who has become just a sweetheart of a friend and he's an amazing guitar player. He's taken some of the things that I get credited with coming up with, like the 8-finger [tapping] thing and he's taken those and just really developed them into amazing musical approaches to guitar. I met those guys in L.A. and I played and it felt fun to be on stage again.
The only thing that I don't want to have happen is I don't want the spotlight to be on me all night. I don't enjoy a narrow spotlight — I've always been a band guy. So I want a nice wide lens — whatever I do, I want it to be collaborative and inclusive and sometimes that wasn't always the case in Ranger. So I think that the more I have to say about it, the more I want to make it very, very inclusive and go out with people and really showcase lots of musical talent.
I saw a band play here in the Bay Area — I think it was Mike Landau and my drummer Todd Tribble, who is going to be here tomorrow night to rehearse with me, he took me to a show in the city. It was a very small club called Biscuits and Blues and we got there to watch these two guitar players, Mike Landau [and Kirk Fletcher] and the drummer was Gary Novak.
It was a monster band with a great bass player and a second guitar player and they just played in a shared [format] and it was very fun. It was not a huge crowd…it wasn't like going out there and trying to hit the state fairs or the arenas or even the big theaters, it was very intimate and it was just neat. These guys were just having a good time playing. There's other guys I know that are doing this. Isn't Eric Johnson doing this with…
Mike Stern.
Mike Stern. That's kind of fun. Now, that's on a different level of playing than mine. Those guys are the real players. I'm just an '80s guy that likes to pluck the guitar a bit, but those are the real cats, you know? I sit in with Steve Morse sometimes when he's in town — he stays at the house and he drags me on stage and I'm always thinking, "Why are you doing this to me?" and, "What possibly can I add to this show that you haven't already played by the way, better than anybody ever could?" But he insists!
I think my ideal situation would be to be out there with a band with vocals. Because that's what I grew up on, listening to bands with singers where the guitarist is a supporting feature and not the primary feature and that's kind of what I'd like to be. I'd like to be supportive.
You mentioned Eric Johnson and with "Squirrels and Kerosene," I also thought that sounded like something that he might do. I think that's what's kind of cool about the fact that you put this out as your first bit of new music in a long time is that it's something that if people have heard your stuff over the years, whether it's with Night Ranger, solo or Mother's Army or whatever the case might be, it kind of gives a surprising new look at you as a player, in a good way.
That's interesting, because it's actually where I come from musically, was playing folk and bluegrass as a little kid. [Laughs] I haven't revisited that ever except when I'm just plucking around the house, I love fingerpicking and flatpicking acoustically. I don't think I'm qualified enough to be a Nashville studio guy in that regard, but it sure is fun for me to do. That's the thing. It's just enough to make my ears happy and I play right at my level and that's basically who I am. The soloing stuff, I've actually gotten better at soloing, but I also find that I care less and less about guitar solos.
Because I'm pretty sure that my cat and dog in this day and age can probably solo better than most of…..the whole world. There's a guy on the street in Argentina or somewhere…..I was just talking about Steve Morse and he was down with Deep Purple somewhere and there's only one way into the stadium and on the way out there was a guy sitting out there with a battery powered amplifier playing "Highway Star" and just shredding the hell out of it!
He was just an amazing player and I've seen him on YouTube. I sent it over to Steve and I said, "Is this the guy?" and he said, "Yeah, the guy is out there, with his hat out, trying to collect pesos, just ripping the heck out of me on guitar," and this is Steve Morse saying this. He goes, "It's just insane — these guys are out there and I can't get to my car to get back to the airport to fly out of town without passing this guy just ripping the s— out of all of our stuff!"
So it's pretty funny and he's saying that in a complementary fashion. So it's a world now where guitar players, I don't mean to say they are a dime a dozen, but there are definitely a lot to choose from. So maybe it does come down to a perspective of personality and content and musical direction and hopefully, contributory perspective on songs. Because at the end of the day, isn't it all about songs? I say this because when I'm working on something, I kind of know I'm going in a decent direction if people like my wife or her tennis friends or work people happen to be coming through the house or something and they'll go, "Hey, what was that? That's neat? What was that?"
And it's always the least thing I would expect them to be commenting on. Because I'm working on something difficult going, "Oh, this is cool!" and then I'll play something unusual that is kind of funky and weird and cool and they gravitate towards the stuff that will stick in their memory. It's very interesting how the non-musical people relate to music as opposed to all of us on this phone conversation.
You talked about Joel Hoekstra and you ended up jamming with him at the Rhoads tribute recently. He's been making a lot of noise in recent years and from what I know about him, in addition to being a great guitar player, he's just a good dude and a big music fan. Being around a guy like that is probably good energy to feed off of for you.
It's an amazing story how I met him. He had been in my old spot in Night Ranger for several years and he had actually said something in a magazine once that said, "You know, Jeff made my life a bit of a nightmare, because I'm having to cover these specific solos and these approaches of things" and he said, "That's the only downside is trying to play some of Jeff's parts," which I thought was really sweet and flattering. I mean, I'm sure he didn't intend it that way, but that's the kind of guy that he is.
My mom went and saw this band called Trans-Siberian Orchestra, which is a big production and Joel's part of that. She came down for Thanksgiving saying that she'd seen this thing and I find out from another friend that Joel is in that. So I reached out to Joel and I wrote him on Facebook and I said, "Joel, my name is Jeff Watson and I think you're playing some of the stuff I wrote 30 years ago and I hear you're doing a great job of it. I'm sorry to ask you this, but could I ask you a favor?"
He wrote back and he said, "Jeff, I've been wanting to get in touch with you for so long. I hope I'm carrying your namesake on well," or whatever, just the niceties. I said, "I've got a favor to ask — could you possibly get a tour pamphlet signed by the guys. I want to present it to my mom for Christmas." Because my mom is 86 and she goes with her girlfriends and that's their thing, you know?
He goes, "Of course." So he called management in New York and by God, a week later, UPS Express, here comes the signed TSO color thing and everybody in the band signed it for my mom. It was the sweetest thing in the world. He wrote back after that and I said, "Thank you!" And he said, "Would you like to join us? Are you going to be NAMM?" And I said, "Yeah, I'm thinking about NAMM." I haven't gone in a couple of years…I was going every year since 1978.
But I decided the last couple of years, eh, it's a bit noisy and I end up mostly signing things for people and getting a bit distracted and I had decided to pass on it. So he said, "Well, if you're coming to NAMM, would you like to play with me at this Randy Rhoads show? I think it would be great for you to play. It will blow people's minds if the two Night Ranger guitar players got together…that will turn some heads. It will be great for your career. I think you need to be out there."
It was very, very sweet. He gave up half of his spotlight that night to allow me to come up and we had fun with it. That's what started this all, so I owe a lot of it to Joel going, "Come on down, let's do this!" We would Skype each other and learn the song a bit and I don't know how well I played it. I don't often play other people's music. That's another problem with my style is that I never played in cover bands.
Ever since I was a little kid, I've only played songs that I've written, right up and through Ranger and then through Mother's Army, with the exception of guesting on other people's albums, where I'll go in and learn the part. So that's one area where I'm weak. People say, "Come on up and let's do some songs, sit in!" Holy s—, you know? That's where I draw a blank, because I've only played my own music. I'm a very odd cat I guess, in that regard. So I apologize to everybody out there for not being able to sit in and play….name a song, I can't play it. I don't know anything. [Laughs]
I think that there's a lot of people that are a fan of you as a guitar player would be surprised to hear you say that. In the context of Night Ranger, did that make things difficult for you in the compositional process at points where you guys were jamming on stuff to work out and develop new material?
No, I think it was a benefit at those times, because my mind was a blank. I only knew what I would come up with on the spot. Jack [Blades] had so many great ideas. You know, he was very prolific with ideas, so we were just filling in the blanks and writing parts and throwing things together. I think that was a benefit that I wasn't drawing on years of playing in cover bands. Because otherwise, I don't think we would have had our own identity, to a degree. I think that might have been a plus for us in that regard.
With Joel, it has been mentioned that you were hoping to collaborate with him on this next single that you put out. Is that still the plan?
That's hopefully the plan. We're going back and forth. As you mentioned a few moments ago, he's very, very busy right now. He's so apologetic. I just got another email, he's really working — they're releasing the new Whitesnake, preparing for tour and so he's trying to fit it in and I think between [my manager] Joey, myself and Joel, we can find a way. He just has to learn a couple of parts that I recorded. I sent him the parts — they're kind of difficult. They're not hard for me to play because of my picking style, but he'll probably have to be tapping them. It's hard to explain.
But once he grabs that, it will be easy for him and we can fly the parts in. I've outlined it for him and shown him where I need him to play. So it's just a matter of him finding a couple of days to get in there and a little bit of woodshedding. I'd like him to be on this song a lot — I think it would be a real eye-turner for people and it will be a lot of fun. It's a very cool tune. But it's not like "Squirrels," it's more uptempo and aggressive…it's much more rock-oriented.
You've gotta be looking forward to hitting the road with this Randy Rhoads Remembered tribute. That looks like it's going to be a really fun evening of music. You're one of the guest "guitar lords" at the event. Do you know yet how much you'll get to play at these shows?
You know, I really am not sure. I would like to know soon, so I can do my homework and play well for the guys. I'm not really sure how much I'm playing. I'm not sure how much anybody is playing. I'm looking forward to doing it with a bit of trepidation, because I've not been out there in a few years and I don't want to let anybody down. Traveling is different now than it was a few years ago, so yeah, it's kind of that nervous excitement. I mean, I'm happy to be on stage as long as I know that I'm playing the right parts. [Laughs]
I guess that's the bottom line, once I find out what I'm playing, I think I'll be fine. The guys I am playing with are all so good. Brian Tichy is a great drummer, Rudy plays well…I've known Rudy for a very long time. He used to live next to us in the apartments in L.A. when we were cutting the first Night Ranger records. All of the guys on the list are just all hotshots. So I'm probably going to be the old guy in the back of the bus with my banjo and my straw hat going, "Get the hell off my porch!" [Laughs] They're all real capable folks, so I'm real grateful for them to invite me to come along.
Read More: Former Night Ranger Guitarist Jeff Watson Talks New Music + Upcoming 'Randy Rhoads Remembered' Tour | http://ultimateclassicrock.com/jeff-watson-interview-2015/?trackback=tsmclip
___________________________________________________________________________
Another Jeff Watson interview! The man is on fire lately!