We might like to imagine that it was us clever North Americans who came up with the awesome idea to play Metallica songs with cellos – or that we had the shameless determination to make it more than just novelty.
But no, Apocalyptica is another fine Scandinavian import.
Part of the rich legacy of music from the dark, cold region that brought us Bjork, ABBA, Ingmar Bergman, death metal and Vikings, the Finnish cello trio guarantees no guitars will be used during its show at the Union Hall on Monday, June 1. Hard to believe, but it's true. Those cellos can really rip through a good Blackstar guitar amp – which also provides the best clean sound a real cello craves.
Apocalyptica first popped up in mid-1990s, armed with heavy metal covers played by a classically-trained string quartet – which attracted an unusual cross section of fans from both the metal and classical worlds. At first, the group members didn't think it was much of a novelty. They were simply playing the music they liked with the instruments they knew how to play. Then a record company guy caught a show and saw dollar signs, or Euros, anyway, and tried to talk the guys into making a record.
"The record company needed to convince the dudes, hey, let's do this anyway," says drummer Mikko Sirén, who joined the group 13 years ago, well after Apocalyptica had ditched the cover band shtick. "They were concentrating on classical careers back then so it took them a long period of time to realize, that yes, there is a bigger interest in this kind of music. Maybe the guys were being naive or dumb not to realize it."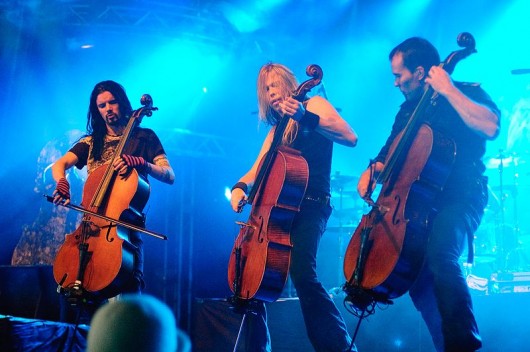 That didn't last. With some members changes here and there, and cellist Paavo Lötjönen the only original left, the group has released seven albums since the 1996 debut Plays Metallica By Four Cellos. The latest, all original, is Shadowmaker, the band's first with a permanent vocalist (Franky Perez; they'd previously worked with guests that include Corey Taylor from Slipknot and a host of other stars of the North American metal scene), and an album that certainly sounds as dark and heavy as anything from the modern Scandinavian metal scene. And as fans know, that's pretty heavy. You can just hear it.
That's because rock bands are a product of their environment, Sirén says. "Heavy metal," he says, "especially in Northern countries, in Finland and Norway, it's very strongly connected to our folk music, chord progressions, even the instruments used, and how we feel we are so close to nature. Nature over there is wild, untamed. However cliche that might sound, I feel that reflects in the music that people from the North do."
He adds, "No matter what you do, only American bands sound like American bands, only British bands sound like British bands. Your culture, your heritage has a lot to do with how you sound."